Our Mission, Our Sanctuary, Our Home
 Our mission is simple. We provide a retirement home for senior pets. Prior to coming to us, our seniors found themselves suddenly homeless or on the cusp of losing their homes & families. They had either already been surrendered to a public shelter, abandoned as strays, or re-homed directly to us. Sadly, because of their age and associated ailments, most people will not take in senior pets, even if they had belonged to a friend or relative. That's where Leashes End comes in …
 Leashes End operates out of a spacious, private home  that sits on nearly three park-like acres of fenced-in land in the Avery Village subdivision of Rockville, MD. If our house looks like a home, it's because it is. We do not use crates. We do not use cages. Our senior cats and dogs are family and we treat them as such. They sleep with us in our beds at night. They lounge on dog beds, cat trees, and laps during the day. They roam freely about our property, roll around in the grass, and bask in the sunshine. They enjoy delicious meals prepared especially for them. They are groomed regularly in our in-house grooming salon. And they receive gold-standard veterinary care, to include from various board-certified specialists.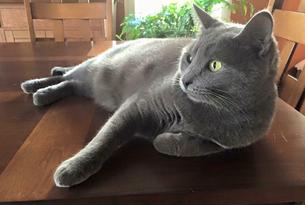 OUR PETS ARE NOT AVAILABLE FOR ADOPTION.
But if you are looking to adopt a senior pet in need, Bravo!  We'd be happy to help you locate the future LOVE of your life from one of our many excellent partner rescue organizations or shelters! Or search for your new best friend on www.rescueme.org or www.24petconnect.com.
It is our greatest pride and highest achievement to facilitate the dramatic transformation that many of our seniors experience. They frequently come to us sick, injured, scared, in pain, and underweight. With proper nutrition, veterinary care, and a safe and loving home environment, it's not long before our pets up and running again, happy, playful, and trusting, purring away contentedly, or enthusiastically wagging their tails. Their physical and emotional recovery is nothing short of amazing.
While our hearts have unlimited space, our home sadly does not and we simply cannot take in every senior pet.  For senior pets that we cannot accommodate, we engage our network of friends and partner rescue organizations to help them find new loving homes. It takes a community effort to ensure that none of these precious animals gets left behind and we are proud to be a part of that community. For our own residents, although we are limited by funding in the number of senior cats and dogs we can take in at any given time, we place no limits on the quality of life that we provide each and every day, including:
Veterinary treatment for their injuries or illnesses as needed
Nutritious home-cooked meals
Professional, in-home grooming 
Soft beds, cat trees, toys, & treats
Pet steps & ramps up to the "human" furniture
Nearly three private acres of verdant, fenced-in lawns for frequent off-leash outings and walks
A network of secluded park trails right off the property for longer on-leash walks
Resident caregivers who provide constant comfort, cuddles, and hugs
Volunteers and friends who spend extra time playing with, loving, and caring for our seniors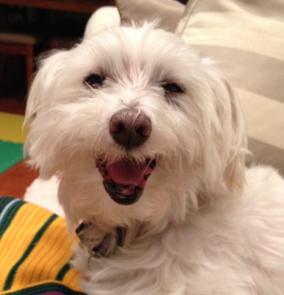 Leashes End relies on a combination of public donations, private gifts, and grants to operate.  We pride ourselves on being excellent stewards of donated resources. Because Leashes End is staffed entirely by volunteers and because we perform most administrative functions in house, we maintain a very low overhead and are able to apply 100% of our donations to the direct care and feeding of our pets.
Leashes End is a 501(c)(3) charitable organization, EIN 81-5295214, registered in the State of Maryland. Our full financial reports are available upon request and you can view our profile on GuideStar.
Rescuing seniors is a costly affair and donations make our work possible; without the help of our generous benefactors, none of our amazing pet rescues would be possible.  So please consider making a donation and helping us save a senior.  Thank you!
Founder and Director
Leashes End